On SEC Tournament Eve, I figured that I'd go ahead and post my picks for the 2008 SEC Tourney.  Here's the blank bracket where you can fill out your own.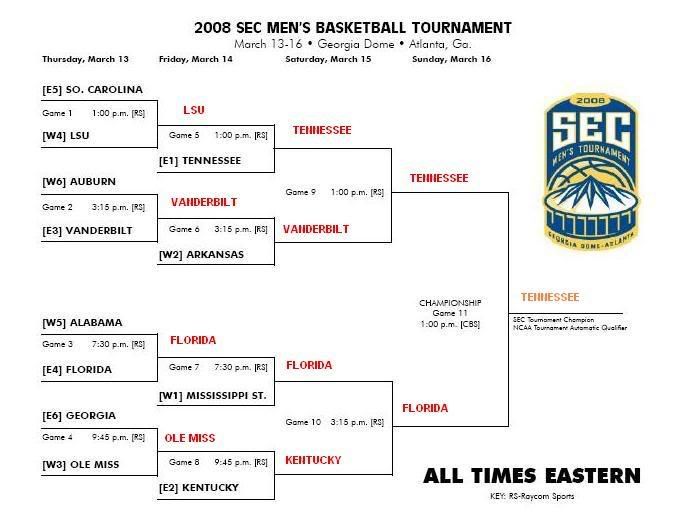 Troubles:
Vanderbilt - Shouldn't have a problem with Auburn, but for some reason I have them beating Ar-Kansas.  Arky edged out a home win vs. the 'Doors by 4 earlier this season, so I think VU will get the 'revenge win'.
Florida - When they're on, they're on, when they're off, they're off.  Coach Eddie Munster won't be denied from the Big Dance and will get to the Final round of this Tourney.  IF he can keep his team on.
Tennessee - The Vols have no reason NOT to win it all.  They've beaten every team at least once, so there shouldn't be any mental hurdles to overcome.  Conversely, if UF and UT meet in the final, expect (yet another) dogfight.  Sorry, WVVol.  Beating a team twice in a season is hard.  Three times?  Well that's...hard-er.  As I stated above if UF get's confidence, we could be in trouble.  However, the Vols have shown their resillance this year and can pull out the hard-er wins when they truly want it.
All-East Semifinal?  Has such (East or West) ever happened before?  I may need to rethink this tonight.
Does yours look any different?