UPDATE: Allen delayed his commitment announcement
Four star offensive tackle Patrick Allen did not make a commitment announcement as expected at the Semper Fi All-American game, instead telling 247 Sports that he planned to wait and gather more information. He is likely waiting to see who Mark Richt hires to replace outgoing Georgia offensive coordinator Mike Bobo before making any decision. Barring the unexpected, Allen will choose from a group of four teams that he previously announced were his finalists: Georgia, Tennessee, Oklahoma, and LSU.
Tennessee commitments dominate the U.S. Army All American Game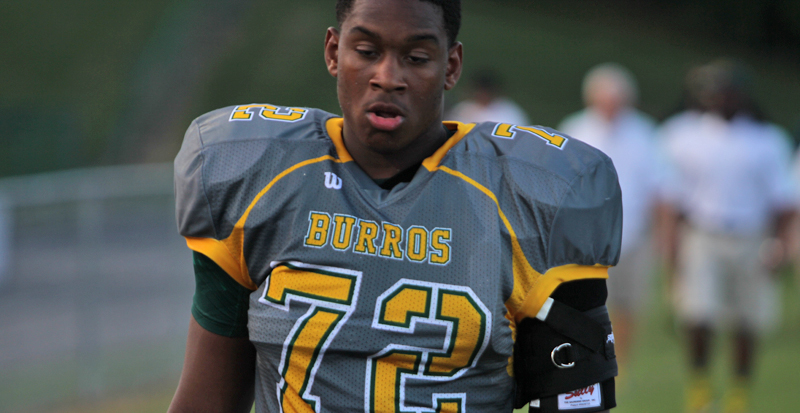 Kyle Phillips, image courtesy Saturday Down South
Four star defensive end Kyle Phillips committed to the Vols during the first quarter of the U.S. All American Bowl, becoming Tennessee's 27th commitment in the 2015 class and the third consensus top ten defensive line prospect to choose the Vols (along with defensive tackles Kahlil McKenzie and Shy Tuttle). Phillips then went out and stole the spotlight from his more highly touted future teammates, finishing the game with 5 total tackles, 2.5 tackles-for-loss, and a sack, as his East team staged a furious rally and fell just short of Kahlil McKenzie's West team, 36-39. During the game, Phillips received a preview of the impact of playing with other elite defensive line talent, as he benefited from the presence of massive Georgia defensive tackle commitment Trenton Thompson, who performed his best Kahlil McKenzie impression. Meanwhile, four star Tennessee linebacker commitment Darrin Kirkland racked up 4 tackles, a tackle-for-loss, and a sack for the victorious West team.
Vols land elite junior college cornerback Justin Martin
Four star cornerback Justin Martin committed to Tennessee on Saturday morning. Martin struggled with his academics at Nashville's Overton High School (where he was a teammate of one-time Tennessee recruiting target Ugo Amadi) and failed to make it through the NCAA Clearinghouse. After playing mostly running back in high school, he spent last season exclusively at cornerback for a junior college team in Oklahoma (Northeastern Oklahoma A&M) as he tried to put his grades in order while learning a new position. Martin has excellent size (6'2, 192) and speed (allegedly clocked at 4.4) for a defensive back, and he holds offers from Tennessee, LSU, Ole Miss, Georgia, Florida, Texas, and a number of other bowl subdivision teams. Long thought to be a Tennessee-LSU recruiting battle, the defection of LSU defensive coordinator John Chavis to Texas A&M put the finishing touches on Martin's commitment decision, with Martin telling 247 Sports that "[he] wanted to go to LSU but then Chavis left."
Offensive Tackle Patrick Allen to make commitment announcement on Sunday
Following his decommitment from Georgia earlier this week, four star offensive tackle Patrick Allen has announced that he plans to make his final commitment Sunday evening during the Semper Fidelis All-American Game. Allen's two finalists are Georgia and Tennessee. If you're asking yourself why a player would decommit from a team only to recommit to the same team two days later, well, this is recruiting, so stranger things have happened. However, it certainly seems likely that Allen decommitted from Georgia because he plans on pledging to the Vols, especially when paired with one of his recent retweets (to be fair, another recent retweet celebrates a piece of female anatomy, so that's really two votes for Knoxville).
@TheDream_75 @K72_Phillips @LuxuryLife1K @Blovee_23 @Dedicated_2Work @apatrickallen14 @gullyboyjonezy Keep coming pic.twitter.com/K8BvjOZH9R

— Future Of The Vols (@FutureOfTheVols) January 2, 2015
Tennessee football set to welcome early enrollees on Wednesday
Ten new players will be on the Hill for the beginning of the spring semester: quarterbacks Quinten Dormady and Jauan Jennings, junior college running back Alvin Kamara, offensive linemen Chance Hall and Jack Jones, defensive linemen Andrew Butcher, Kyle Phillips and Shy Tuttle, linebacker Darrin Kirkland, and safety Stephen Griffin.